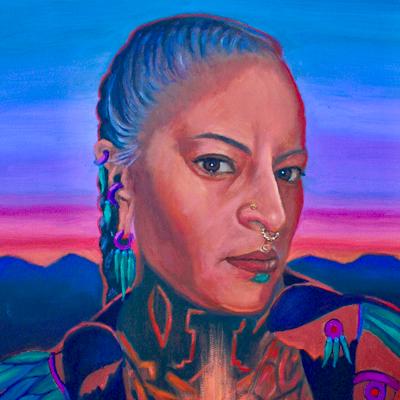 MARCH 22,1977 – DECEMBER 27, 2021
Photo taken by Anthony Maes, Courtesy of Chicano/a Murals of Colorado Project
It is with great sorrow, the Corn Mothers team grieves the tragedy that took place on December 27th, 2021 in our community. On this day, Corn Mother 2022 inductee Alicia Cardenas, along with five other victims (Alyssa Gunn Maldonado, Danny Scofield, Sarah Steck, and Michael Swinyard) were brutally murdered. We send our heartfelt condolences to the families of the victims, and to all those in the community who loved them.
We had planned to send out the official public announcement of the Corn Mothers 2022 project (book, and exhibit at History Colorado) in early January 2022 However, out of respect for the victims' families and our communities, we have put this on hold.
Alicia Cardenas was scheduled to be one of the women honored in the Corn Mothers 2022 exhibition and book. We will still include Alicia, as originally planned. In addition, an appropriate tribute to her and to the other victims will be incorporated into the book, and into the community Día de Los Muertos altar at History Colorado, which was being created, as part of the opening reception, to honor previous Corn Mother inductees who are now deceased. We do not have details worked out yet, but will keep you all informed.
Words cannot describe the tremendous sense of grief our community is experiencing, for Alicia and for all the victims. But we know, as her friends and colleagues, that she was very excited to be part of this project. To honor her, and in keeping with the spirit of what a Corn Mother represents, we will move forward with this project with an abundance of love for all of you and what you symbolizeto the world.
Blessings and Prayers,
Dr. Renee Fajardo
Obituary of Alicia DeOlivera Cardenas - allstatescremation.com
Obituary
Artist, Activist, and Entrepreneur, Alicia Cardenas was taken from this world on Monday, December 27, 2021. Alicia was a well known and highly respected tattoo shop owner, muralist, Indigenous women's activist, LGBTQ advocate and body piercer. Starting her career at age 19, Alicia opened famed tattoo shop Twisted Sol as part owner. Her goal was to operate a clean, safe, high quality body modification shop. Alicia was a proud member of the Association of Professional Piercers (APP) and help set guidelines for safer tattoo shops across the county. She challenged the negative stigma of tattoo shops by operating the first Boutiqe' style tattoo shop where clients could receive safe, safety conscious body modifications, without judgement or oppression. Eventually she opened Sol Tribe on Broadway continuing the welcoming atmosphere of Twisted Sol. Sol Tribe was another leader in its industry. They specialized in importing hand made jewelry from around the world hiring hand picking talented artists, and maintaining a comfortable, safe,welcoming environment. In addition to her business endeavors, Alicia enjoyed native american dance, spiritual prayer and ceremony and so much more.
Her influence in the indigenous community was ever increasing. More recently, Alicia had begun making a name for herself as a Meso-American muralist and visual artist having painted many highly intricate and culturally significant murals around Denver, Arizona, and New Mexico. Alicia was a supporter of Chicana artists, and LGBTQ equality, and had only begun to make her mark in these communities.
As one might expect her most proud accomplishment was being a mother of a 12 year old daughter, It was her love, her life, and her true reason for being. Preceded in death by her mother, Beverly Louise DeOlivera (July 18, 1945- July 25, 1998) Alicia is daughter to Alfredo J. Cardenas, sister to Alfredo Javier Cardenas. Alicia's impact on her community was significant and her influence felt worldwide. The tattoo industry has changed forever with both her involvement and her passing. She will be sorely missed by all those who knew her.