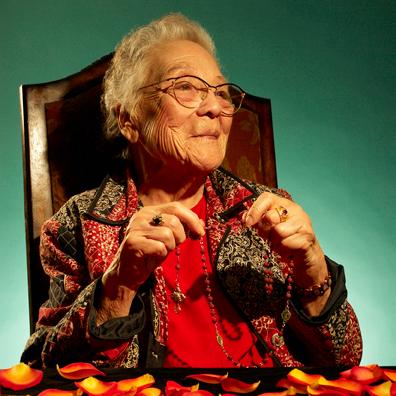 Sept. 12, 1922 - Dec. 26, 2009
Carolina "Carrie" Sandoval Mejia was born, at home, in Bernal, New Mexico in 1922, when parteras and curanderas were the community's medical practitioners. She had a treasure chest of memories about rural life.
Mrs. Mejia grew up with her two sisters and three brothers. Her father, Pantaleon Sandoval, participated in the Tecolote Land Grant. Her sister Sally continues as caretaker of this tierra sagrada (holy land) with a long history of struggle. Carrie remembers being picked up from her ranchito in a covered wagon to go to school, as the wheels rumbled noisily down dusty roads.
There were no fancy cars there; just simple people of the earth trying to carve out an existence. Carrie has passed down her New Mexican customs and traditions to her 15 grandchildren and 21 great grandchildren, so that the family tree will continue to grow and prosper.
Obituary
Dear Debbie,
I want to send my condolences to you and your family. I saw that you love your mother very much as I would see you at Ceders. You and your mom were always so friendly. I pray that the God of all comfort will grace you with His peace in the days ahead. Bless you and all of your family.

Sincerely,
Debbie Delgado
http://www.legacy.com/obituaries/name/carolina-mejia-obituary?pid=137958226&view=guestbook
Copyright Return of the Corn Mothers © 2018